A Decorative Surfboard by Michael Rumsey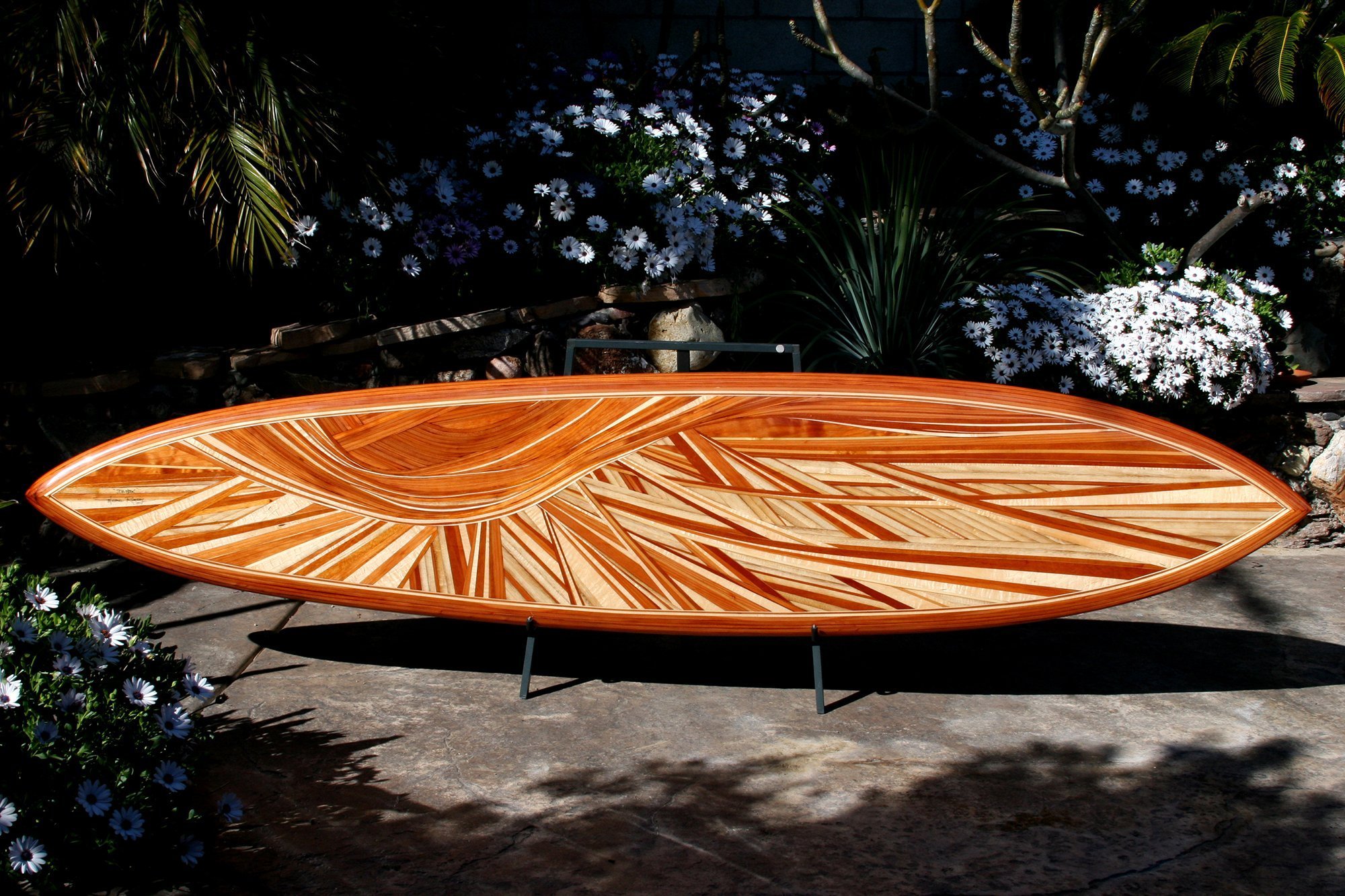 This is a classic pin tail shaped hollow wood surfboard which will lay flat against a wall because it has no fins. It measures 8' 4" x 20-½". Fins can be added later, should you choose to do so.
This piece is comprised of several hundred individual strips and segments of wood from a variety of species including figured maple, redwood, teak, paulownia, poplar, basswood and butternut.
It's the thin ribbons of figured maple providing the striking iridescent shimmer.
I use what is commonly known as the 'strip-build' technique to create all of my hollow wood surfboards. This means I place one segment or one strip of wood over a hollow wood frame – one strip at a time. This build technique is similar to that of an airplane wing constructed with a spar and ribs to provide strength without adding weight.
I never use paint or tinted stain on my surfboards because I prefer to let the wood speak for itself. I enjoy bringing out the natural beauty of the wood's grain and color by finishing my pieces with either clear varnish or epoxy for a satin or matte finish, or fiberglass and resin finish polished to a high-gloss shine.
The pictures simply can't do justice to the beauty of the wood's grain and color. Especially that figured maple! I hope you'll get the chance to see this piece up close and personal at one of my upcoming art shows.
You can find my schedule for art festivals and exhibitions here on the events page which will be updated as I add more art festivals to the current schedule.
If you'd like more information about any of my surfboards, or if you are interested in commissioning a wood surfboard, please contact me here.